Café Kvika
Our guests have the opportunity to enjoy a relaxing, light lunch or dinner in our café. We offer both indoor and outdoor seating areas and we definitely recommend the outdoor area on sunny days, while enjoying the refreshments.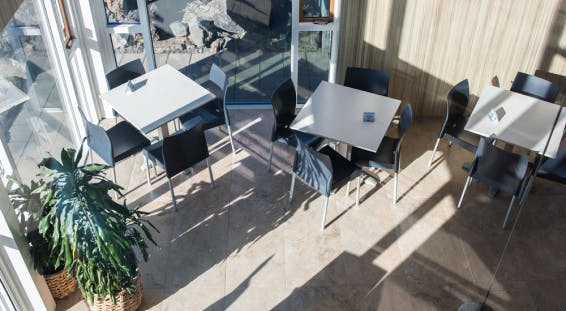 Our selection
Our selection includes soup of the day with freshly baked bread, freshly made sandwiches, fresh salad and the famous geyser bread with smoked arctic char.
Throughout the day we also offer muffins, cinnamon rolls and more for the sweet tooth, as well as coffee, sodas, beer and wine.
Bread bun and butter included
Smoothie of the day
650 ISK
Fruits, berries and vegetables
Geyser bread with smoked char
850 ISK
The famous hot spring bread
Bread bun and butter included
Olives, cheese, salami and more
Various types of fresh sandwiches
Pastries
Berliner (German doughnut)
450 ISK
Drinks
Juice/Chocolate milk
250 ISK
Alcoholic drinks
Glass of wine (red, white, rosé, prosecco)
1400 ISK
Glass of champagne
3500 ISK