Lagoon
Drawing on a centuries-old tradition, the tastefully designed complex offers bathers a completely natural experience that begins with a relaxing dip amidst clouds of steam rising up from a fissure deep in the Earth´s surface, and ends with a luxurious swim in a pool of geothermal water drawn from depths of up to 2.500 meters.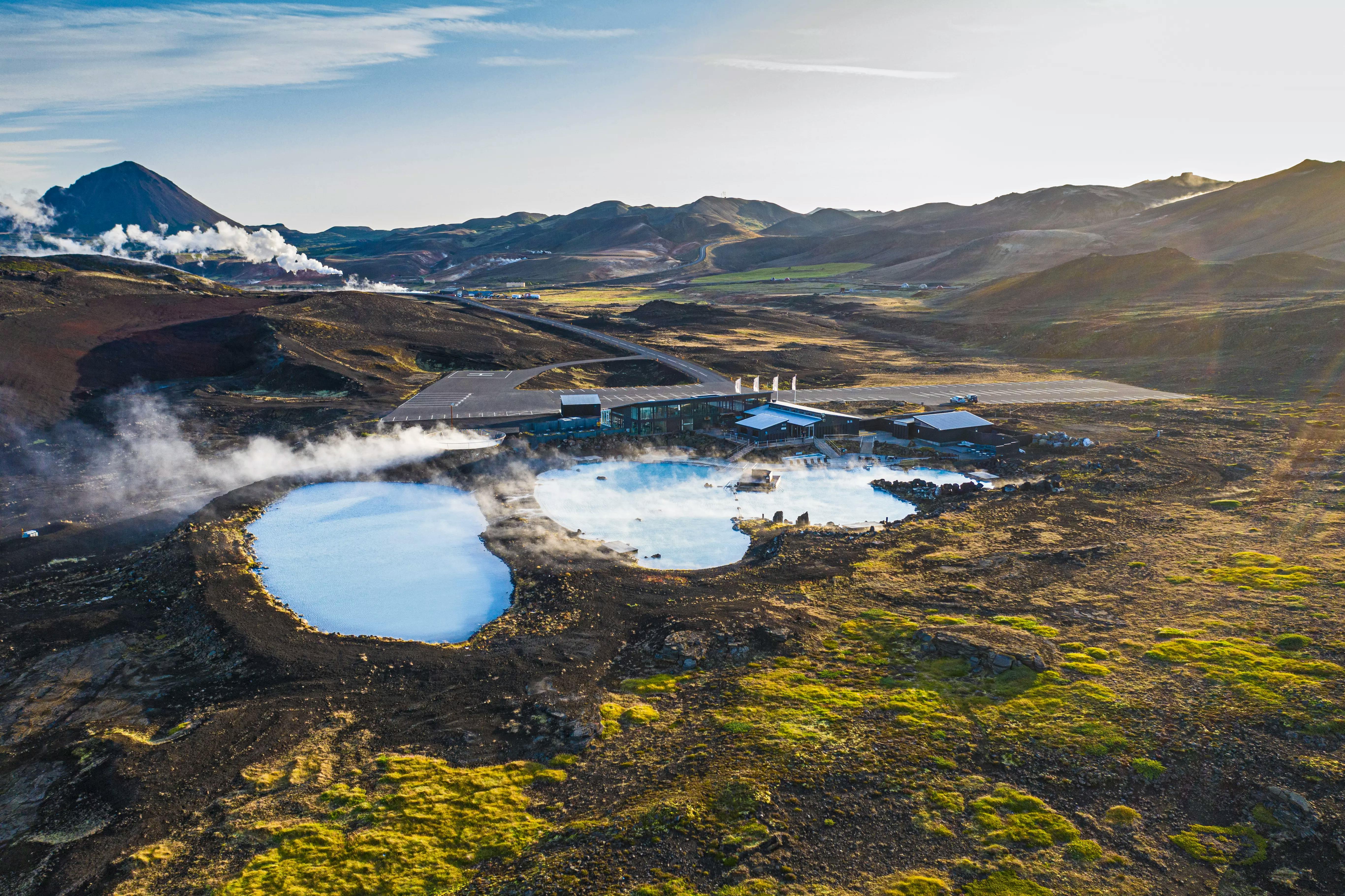 Bathing Lagoon
The water supplies for the lagoon run straight from the National Power Company´s bore hole in Bjarnarflag. The water has a temperature of about 130°C when it arrives to the huge basin beside the lagoon itself forming an impressive, man-made hot spring. Altogether, the lagoon and the basin contain around 3.5 million litres of water with a temperature of 36 – 40°C.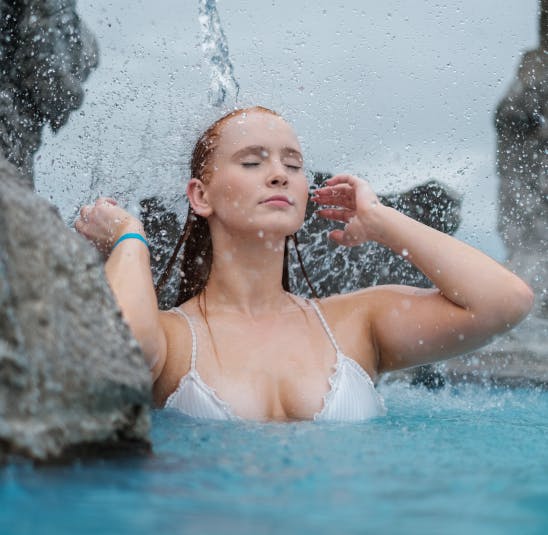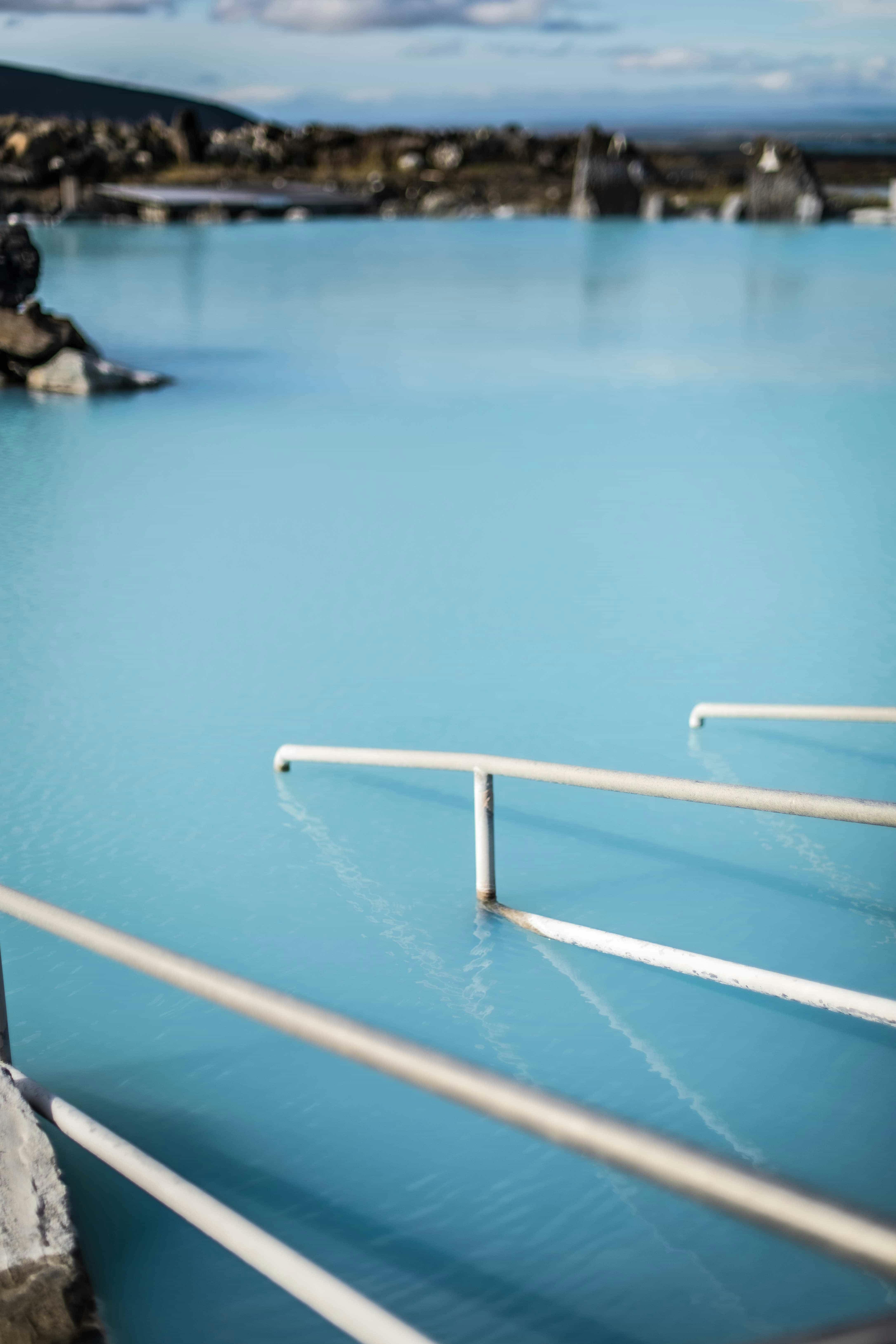 The lagoon itself is a man-made construction, its bottom is covered by sand and gravel. The characteristics of the water are unique in many ways. It contains a large amount of minerals, is alkaline and well suited for bathing. Due to its chemical composition, undesired bacteria and vegetation do not thrive in the lagoon making chloride or any other disinfectant redundant.
Geothermal water in Iceland usually contains some sulfur. In this area the strength of the chemical is greater than others. Therefore is should be avoided to take jewelry from brass or silver into the water, they become black and can be damaged. Sulphur, however, is considered to have a positive effect on asthma and other respiratory diseases, and many of the trace elements in the water are considered to have a good effect on the development of skin problems.
Steam Baths
The steam rises directly through the floor and is completely controlled by weather. Typically the temperature is around 45°C and the humidity is close to 100%. In spring 2019 we put windows in the steam baths so now everyone can enjoy our beautiful view.
Guests can take a few turns in the steam baths and cool down using the outdoor shower in between.
Changing Rooms
The changing rooms can accommodate up to 400 guests at a time. You put your belongings into a locker and we recommend removing silver and copper jewelry because it turns black in the water. We also recommend to leave glasses in the locker because the water can leave stains. All guests are required to take a shower and wash thoroughly without swimsuits before entering the lagoon.
We offer body wash, shampoo and conditioner from an Icelandic company, Sóley Organics. Sóley Organics provides high quality, natural and organic skin and hair care products made from fresh spring water and hand picked wild Icelandic herbs based on an old family recipe. By buying local products we reduce the carbon footprint and natural and clean products are kind to your skin and in harmony with our environment. For more information, please visit their webpage here.